Every year, ISPS-US brings together a diverse range of people passionate about our mission at our annual conference. Together we build community and share our knowledge, experience, and cutting-edge research.
Upcoming Conference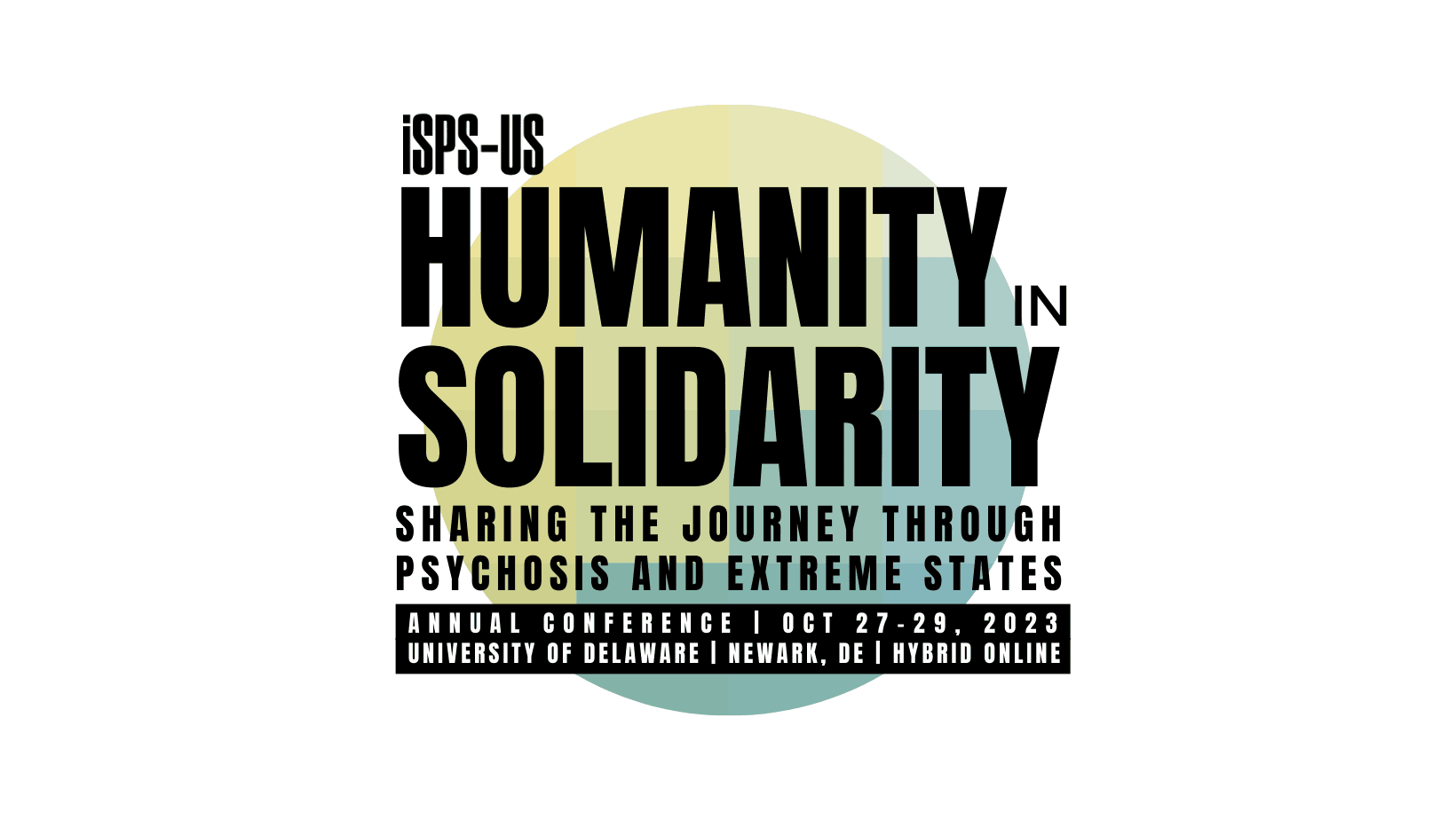 ISPS-US's 2023 conference Humanity in Solidarity: Sharing the Journey Through Psychosis and Extreme States, will take place from October 27-29th at the University of Delaware in Newark, DE, and hybrid online.
Our call for proposals is now open - the deadline to submit your abstract(s) is June 7th. Please note that the conference is hybrid, and you may select to present either in-person or virtually. The full conference description is included below, and we hope it will inspire you to submit your ideas.
More details regarding registration will be released in the upcoming weeks, so watch this space. Sign up to the ISPS-US mailing list to be the first to find out. We look forward to seeing you in October!
Conference Description
No one is a stranger to loneliness. Each of us has moments when we feel profoundly alone, profoundly other, even if those moments are fleeting. Many people experiencing psychosis and extreme states, however, find that those fleeting moments have become a constant, a profound isolation made even more radical in the face of mental health systems and/or personal relationships that coerce, oppress, or deny one's humanity. With such isolation, often the first step forward is a step outward, towards others, whether towards a person who can truly listen, or towards a sheltering and supportive community.
Indeed, community matters: if we are to develop true healing spaces, bridges must be built between all of us to create a solidarity firmly rooted in the recognition of our shared humanity. Such solidarity does not come naturally in our society, where individualism and independence are prioritized over collectivism, family, and community. We must therefore foster and create systems of care in which human rights and full personhood are held central, replacing approaches that "other" and reduce experiences to labels of deficit and disease.
We hope you will join us in this effort of solidarity at our upcoming ISPS-US conference on October 27-29, 2023, on the campus of the University of Delaware, Newark, DE, and online. This year's conference focuses on understanding our shared journey through psychosis, for this is a journey that includes us all, and all are welcome to attend and submit proposals to present. Whether you are a clinician working to change the mental healthcare system; a researcher interested in humane treatment alternatives; a family member advocating for your loved one's rights; a person who cares about social justice and human value; and/or an individual with lived experience invested in maintaining your freedom, agency, and perspectives, we hope ISPS-US 2023 will offer opportunities for insight, acceptance and integration.
The conference will be hybrid; you may attend and present either online or in person. Scholarships will be available on a first- come, first-served basis for those without the means to attend otherwise. We look forward to seeing you in Delaware!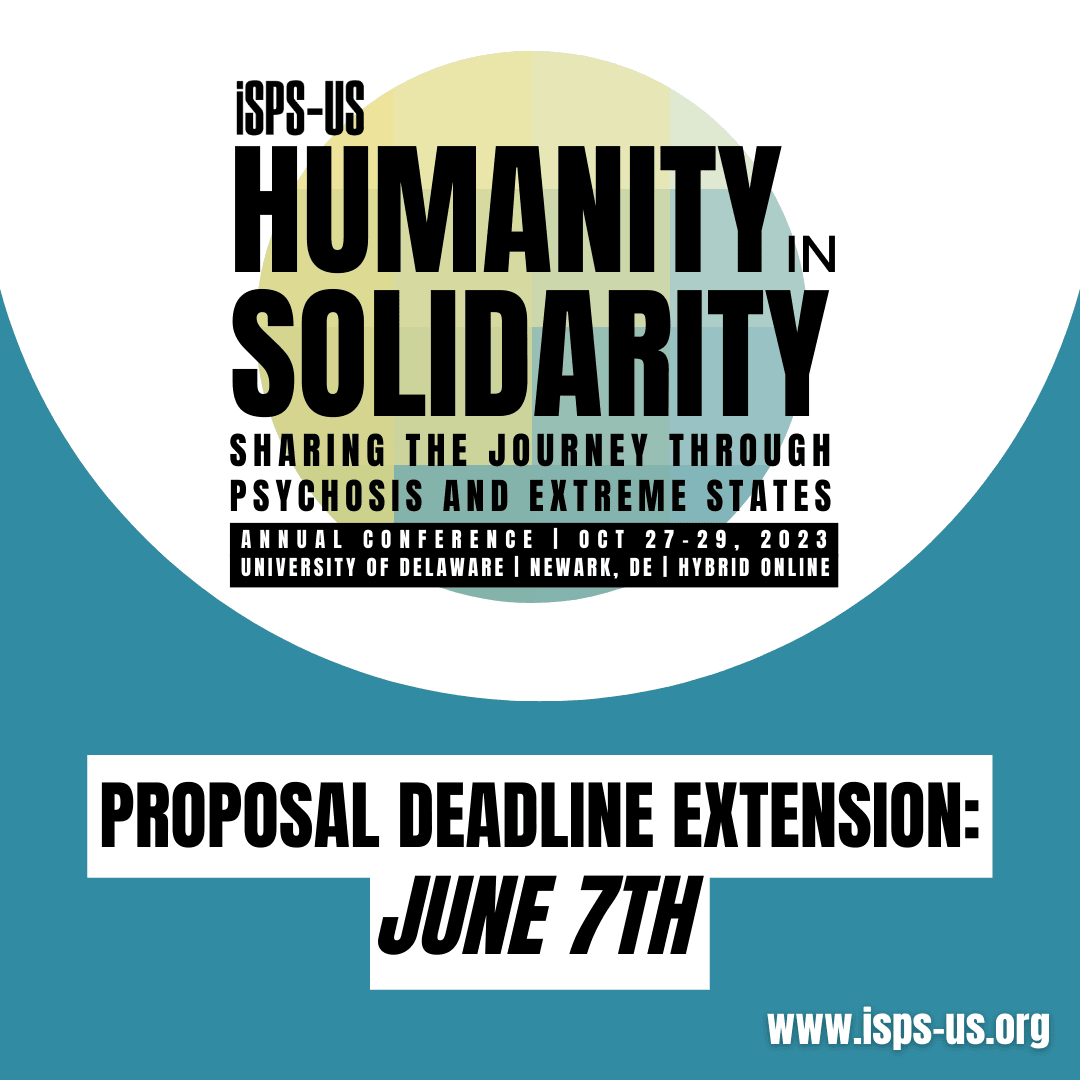 ISPS-US has extended the deadline for submitting proposals for the ISPS-US 2023 Annual Conference. The new deadline for abstract submissions is now June 7th.
The conference, themed "Humanity in Solidarity: Sharing the Journey Through Psychosis and Extreme States," will take place from October 27-29th at the University of Delaware in Newark, DE. We are excited to bring together researchers, practitioners, people with lived experience, family members, and advocates to explore the human experience of psychosis and extreme states, and to highlight the significance of building solidarity and community in the journey of healing.