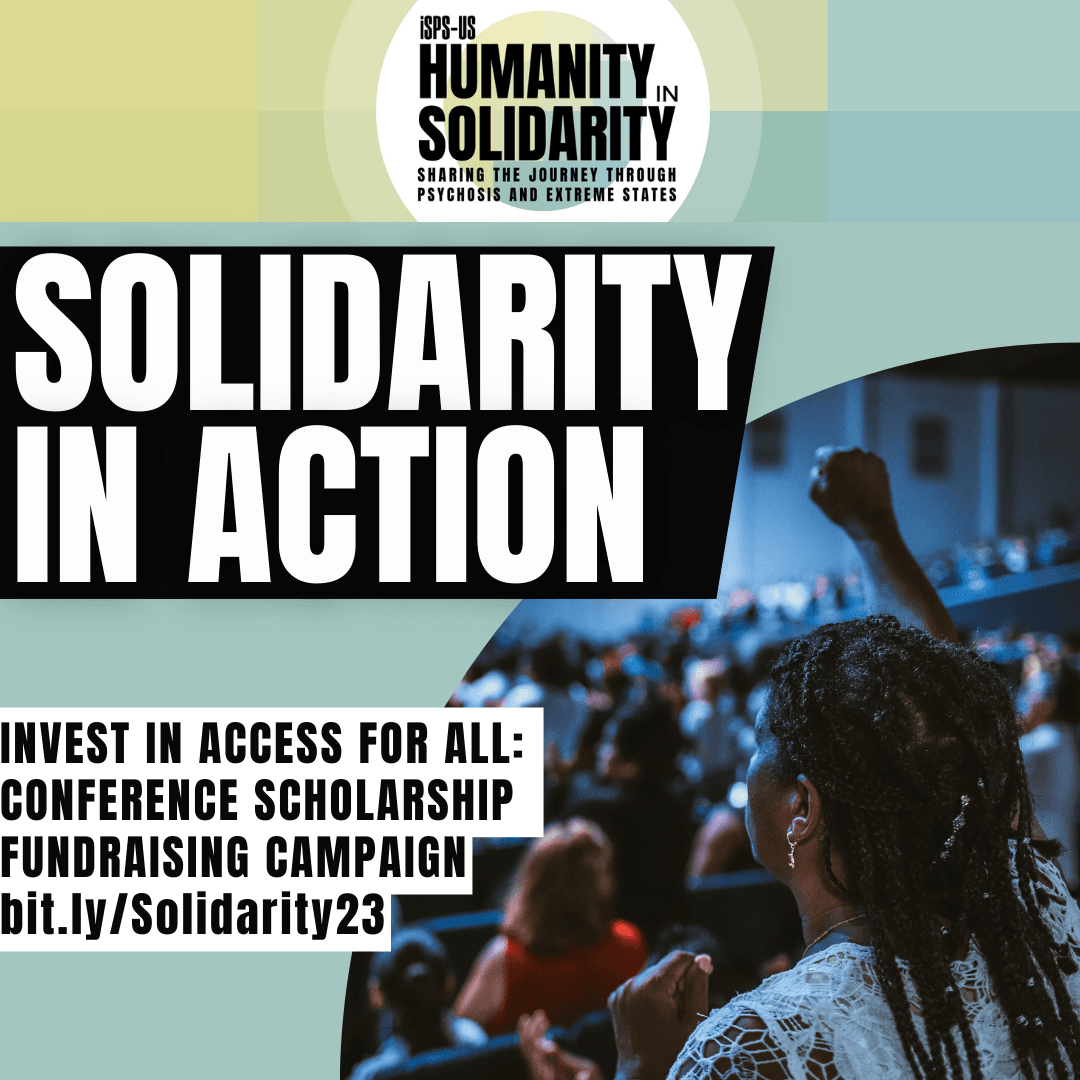 Registration will soon open for the ISPS-US Conference, "Humanity in Solidarity: Sharing the Journey through Psychosis and Extreme States." However, we believe that everyone should have an opportunity to participate, regardless of financial circumstances.
To create equity in action, we are launching a special fundraising campaign to provide scholarships. Our goal is to raise $4,000 and we would be honored to have your support.
The conference, taking place on October 27-29, 2023, at the University of Delaware in Newark, Delaware, and online, aims to foster compassion, understanding, and progressive change in the field of mental health care. We recognize that embracing our shared humanity and fostering solidarity is at the core of transforming mental health care. Our aim is to ensure that no one is excluded, regardless of their financial circumstances.
By donating to our scholarship campaign, you will play a pivotal role in two crucial areas:
Low-Income Scholarships: These scholarships will offer financial assistance to individuals who are limited by economic challenges. Your contribution will directly enable them to join us at the conference at a reduced price, where they will have access to diverse perspectives, enlightening discussions, and invaluable connections. Through this support, you will help us bridge the gap and foster inclusivity, empowering individuals who are often marginalized due to financial hardships.

Rodney Waldron Fund for BIPOC Scholarships: Rodney Waldron was a peer specialist who worked for the NY State Office of Mental Health in Manhattan and the Bronx. He used his own experience of addiction, abuse, incarceration, and mental health struggles to help others in need. This fund is dedicated to providing 100% scholarships specifically for Black, Indigenous, and People of Color (BIPOC) individuals. By contributing to this fund, you will not only promote diversity and representation at the conference but also create a platform for their unique experiences and voices to be heard and valued.
By supporting these scholarships, you exemplify the true spirit of humanity in solidarity. Together, we can break down barriers, challenge systemic inequalities, and build a mental health system rooted in empathy and respect.
To make a donation and contribute to these scholarships, please visit our dedicated fundraising page. Your generous support will make a significant difference, bringing us closer to our goal of $4,000 to provide transformative opportunities for those who need it most.
Thank you for your support!