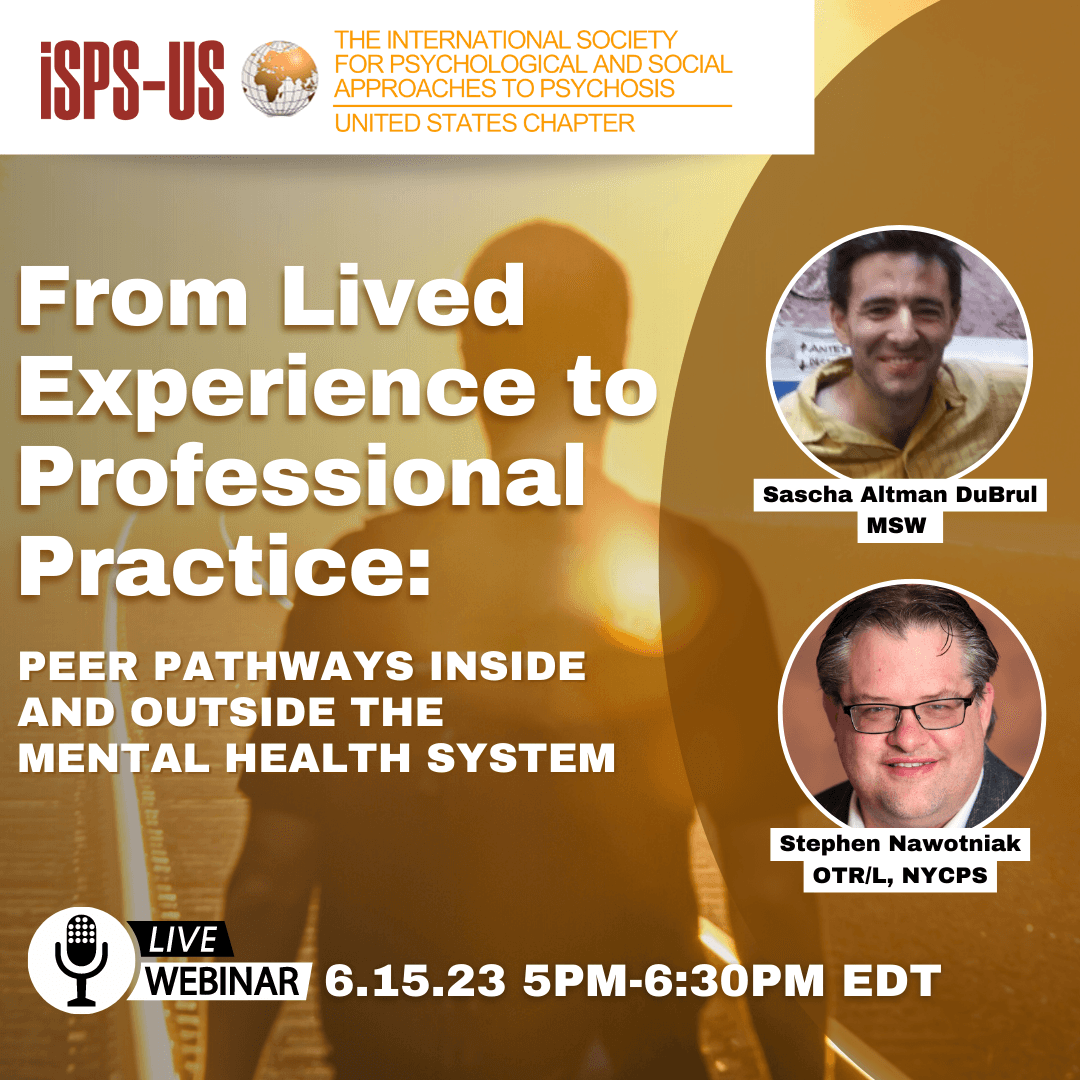 Webinar Description
In this webinar, advocates Sascha Altman DuBrul and Stephen Nawotniak will share their unique perspectives on transforming mental health care through peer support in pathways from both inside and outside the system. Through their lived experiences, diagnoses of "bipolar," and professional work, Sascha and Stephen have seen firsthand the limitations of the psychiatric system.
Sascha, a writer and Mental Health Coach, brings an outside-the-system perspective through his private practice and legacy of advocacy work, while Stephen, an Occupational Therapist, certified Peer Specialist, and Training Implementation Specialist for the New York Association of Psychiatric Rehabilitation Services, pushes for evolution from within the system. Together, they will discuss how peer support and lived experience can enhance mental health care and create a more compassionate and inclusive system.
About the Presenters
Sascha Altman DuBrul

Sascha Altman DuBrul, MSW is a writer and mental health coach. When he was 27 he co-founded The Icarus Project, a network of peer based mental health support groups and media project with the aim of changing the language and culture of what gets called mental health and illness. After many years working in grassroots radical mental health he got a Masters from Silverman School of Social Work and worked in the public mental health system in New York City in family therapy and training the peer workforce. He was the lead peer trainer at the Center for Practice Innovations at the New York State Psychiatric Institute.
He is co-author with Jacks McNamara of Navigating the Space Between Brilliance and Madness and the author of Maps to the Other Side: The Adventures of a Bipolar Cartographer. He is currently a trainer with the Institute for the Development of Human Arts (IDHA) a Transformative Mental Health Training Institute and works in private practice He currently lives in Los Angeles with his partner, Alice, and their twins Lilah and Silas.
Stephen Nawotniak
Stephen Nawotniak is an occupational therapist and New York certified peer specialist. He received his master's in occupational therapy from Utica University and a self-designed master's degree through Buffalo State College. He is author of Handbook for Healthy Living with a Mood Disorder, Bipolar Life Hacks: Keys to Loving Life with a Bipolar Disorder, and the award winning Mubu the Morph children's book series.
Steve believes that successfully living with a condition is not merely managing and coping with its symptoms. It requires adaptability to change, mechanisms for managing challenges, and the development of skills for a fulfilling life. Steve uses his professional experiences as an occupational therapist and personal experiences and a certified peer specialist to advocate for the evolution in mental health care. Steve lives and works in Buffalo, New York